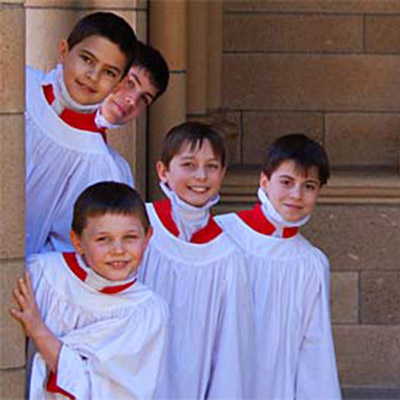 Voices of all ages – for the ages
St John's Cathedral offers a stellar setting for the glorious expression of the human voice, featured in both regular weekly services and frequent special events. Opportunities exist for boys and girls to also experience and develop their vocal craft under the leadership of our Director of Music and choral tutors.
Boys who sing as treble choristers in the choir of St John's Cathedral receive a Half-Scholarship to the Anglican Church Grammar School (Churchie). We are currently accepting expressions of interest from musical boys in years four and five. The ability to already read music is not necessary. Being a Cathedral chorister provides a musical education that is second to none, as boys perform at the highest possible standards each week.
More information
Please contact either:
Director of Music Graham Morton:
gmorton@stjohnscathedral.com.au
Cathedral Organist Andrej Kouznetsov:
akouznetsov@stjohnscathedral.com.au
St John's Girls' Choir
Girls are also invited to express their interest in the choral life of our Cathedral. Periodic events offer the opportunity of rehearsals, participation and performance before family, friends and the wider Cathedral community.
Over the past few decades, many English Cathedral choirs have introduced girls' choirs into their choral programs, changing the face of almost 900 years of musical history. We are pleased to announce we are following in these hallowed footsteps with the creation of the St John's Cathedral Girls' Choir.
This ensemble is open to girls who are aged 9 to 14, and will rehearse on Sunday mornings from 11.00am till 12 noon each week, during term time. A performance schedule is to be announced, with a service being performed every three weeks or so.
The first time the girls will sing is combined with the Cathedral Singers for Evensong at 6.00pm on Sunday 29th October.
More information
Please contact Kathryn Morton:
kathryn.morton77@gmail.com
Music for everyone
On the first Thursday of every month, our free morning concert at 10.00am delivers music to stimulate many tastes. It may be strings or woodwind, it might be piano or percussion, but it is always immersive and transformative. The busy city streetscape outside may as well be in another world.
Lunchtime concerts also offer a temporary respite from bustling city life, and our Cathedral also plays host to many evening events – concerts, recitals and performances across a range of musical genres – featuring a range of artists from school ensembles to Conservatorium members to acclaimed national and international performers.
More information
News of concert events appears in the monthly CCN (Cathedral Community News) and on our LED sign on the Ann Street footpath, as well as on the homepage of this website.
St John's Cathedral organ
Between 1906 and 1910 the distinguished UK firm Norman and Beard was engaged to build the Cathedral organ. This (initially, 50-stop) instrument was to be accommodated in a much larger chamber designed by John Pearson, the son of the Cathedral's late architect.
Financial constraints at the time, as well as the ongoing evolution of the Cathedral's construction during its first two stages, meant that compromises, both musical and architectural, had to be made. Without the support of many private donors, the full majesty of the organ would not have been realised – indeed, it was not properly realised until its major rebuild during the 1970s under then-Director of Music Robert Boughen.
Today, beneath our soaring vaulted ceilings, the immense soundscape of our Cathedral organ may be experienced to truly spine-tingling effect.
Music for the seasons
The seasons in the life of our Church are reflected in a diverse program of musical performances, from Lent and Easter to Christmass – and many more times besides. From times of quiet reflection and introspection to sublime moments of soaring glory, St John's Cathedral can touch hearts and souls.
For example, BCCMF – the Brisbane Contemporary Church Music Festival – is an established feature of our musical calendar. Every August, across two weekends, features a colourful array of performers and performances. Standalone concerts are deftly interwoven with special choral and musical accents to regular services.
More information
Watch for updates in the monthly CCN (Cathedral Community News), as well as on our Ann Street signage and this website. You can also find out more in our regular Service Notes and on our Facebook and other social media feeds.