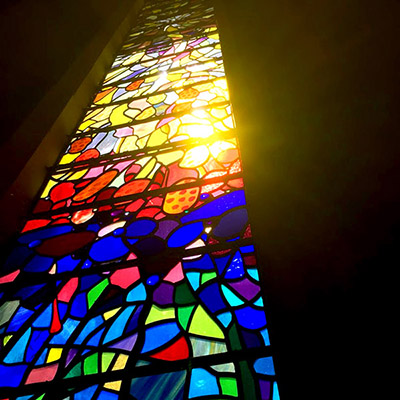 Weekly Reflection
Each week the Dean offers a reflection through which he seeks to speak to the world in which we live and to explore how our life and faith intersect.
The riches of the Christian and other spiritual traditions, poetry, art, music and the writings of commentators who are trying to make sense of our lives and create a better world are brought together.
The Dean welcomes you feedback and insights.
Click here to Email the Dean
Monday 17th January, 2022
The delightful poem below by Brian Zahnd appears in his book Water to Wine: Some of My Story….
Click for more
In the book he talks about his own personal transformation in this way: I've tried to explain to those willing to read my story how I reached the point where I could no longer drink the grape juice of American consumer Christianity and call it wine. I've done my best to chronicle how Jesus did a miracle in my life by transforming watered-down pop Christianity into something glorious and intoxicating — the full-bodied wine of a deeper and richer faith.
Brain reminds us that the story of the Wedding at Cana in Galilee that was featured in our worship on Sunday is not really a story about wine at all, but an invitation to go on the journey of transformation.
 L'Chaim!
Water turned to wine
The miracle is the time
That it did not take
For common to turn extraordinaire
Tap water into carménère
Drawn from pots of ritual purity
Taken to the master of the party
Hints of plum and kingdom come
Salute!
In Nazareth he was called the carpenter
In Cana he became a master vintner
Sommelier said it's a hundred point wine
The miracle-worker did it without a vine
A whole barrel of vintage year thirty
Better than the best from Cape Verde
All so the feast would not cease
A toast to Mary for her idea
L'chaim!
We walked from Nazareth to Cana
In the fall of my fifty-fourth year
Talking Jesus all along the way
Took us the better part of a day
Every other store up and down the line
A Christian selling some kind of wine
Call it a entrepreneurial witness to —
Jesus' first miracle
Cheers!
Water turned to wine
The mystery is the time
It takes for my own transformation
A slow and painful fermentation
With a soul like crushed grapes
I'm a dusty bottle in God's cellar
But the winemaker knows his craft
He makes all things beautiful in their time
Hallelujah!
                            Brian Zahnd, Water to Wine: Some of My Story.
Peace,
Peter+
Monday 10th January, 2022
The bees build in the crevices…
Click for more
Of loosening masonry, and there
The mother birds bring grubs and flies.
My wall is loosening; honey-bees,
Come build in the empty house of the stare.
We are closed in, and the key is turned
On our uncertainty; somewhere
A man is killed, or a house burned.
Yet no clear fact to be discerned:
Come build in the empty house of the stare.
A barricade of stone or of wood;
Some fourteen days of civil war:
Last night they trundled down the road
That dead young soldier in his blood:
Come build in the empty house of the stare.
We had fed the heart on fantasies,
The heart's grown brutal from the fare,
More substance in our enmities
Than in our love; O honey-bees,
Come build in the empty house of the stare.
      The Stare's Nest by my Window, William Butler Yeats,
      From Meditations in Time of Civil War
Some of our community have already chosen to enter into a period of lockdown. The number of people at Church has reduced dramatically since mid-December.
W B Yeats wrote The Stare's Nest by my Window during the Civil War in Ireland in the 1920's. His family had also been significantly impacted by the Spanish Flu Epidemic in 1918, as well as by the aftermath of World War 1. It was time of incredible stress and challenge.
In the poem Yeats, I think, captures the sentiments held by many of us in these days as Covid finally takes hold on our community:
We are closed in, and the key is turned
On our uncertainty.
It is interesting to note that Yeats also writes about discovering honey, something sweet and somewhat miraculous, in the midst of his experience of being locked-in and uncertain.
Years later Yeats was to say that his poem was the result of 'an overmastering desire not to grow unhappy or embittered, not to lose all sense of the beauty of nature… a strange thing happened. I began to smell honey in places where honey could not be…'.
A Starling is called a Stare in West Ireland.
Peace,
Peter+
Monday 3rd January, 2022
On Tuesday at 10am we will hold a service to give thanks for the legacy of Archbishop Desmond Tutu.
Click for more
Here is one of my favourite Tutu quotes:
When we see others as the enemy, we risk becoming what we hate. When we oppress others, we end up oppressing ourselves. All of our humanity is dependent upon recognizing the humanity in others.
Peace,
Peter+
Monday 27th December, 2021
Here is another poem from Rilke.
Once again it is inspired by the person of Mary.
Click for more
Without your simplicity, how could this
have happened–what now shines in the dark of night?
The God who thundered over the nations
makes himself mild and through you enters the world.
 Were you expecting something greater?
 What is greatness? He moves straight through
all measurements we know, dissolving them away.
Even the path of a star is not like that.
 Behold: these kings standing here are great
and drag into your lap rare treasures
that each believes to be the greatest.
 Perhaps you are astonished at their gifts.
But look into the blanket in your arms,
how He already surpasses all of them.
 Amber that is traded near and far,
rings of gold and costly spices
that drift for a moment on the air:
these are quickly fading pleasures
and leave behind a vague regret.
The gift He brings–as you will see–is joy.
                     Rilke, The Birth of Christ
Monday 20th December, 2021
The angel's entrance (you must realize)…

Click for more
was not what made her frightened. The surprise
he gave her by his coming was no more
than sun or moon-beam stirring on the floor
would give another, — she had long since grown
used to the form that angels wear, descending;
never imaging this coming-down
was hard for them….
No, not to see him enter, but to find
the youthful angel's countenance inclined
so near to her; that when he looked, and she
looked up at him, their looks so merged in one
the world outside grew vacant, suddenly,
and all things being seen, endured and done
were crowded into them: just she and he
eye and its pasture, visions and its view,
here at the point and at this point alone:-
see, this arouses fear. Such fear both knew.
Rainer Maria Rilke, Annunciation to Mary
From The Life of Mary
The encounter between Mary and Gabriel, which occupies a pivotal moment in the story leading to Christmass, is an event that has captured the imagination of many.
Poets and artists have sought to plumb the depths of the complexity and meaning of that encounter. Was Mary meek and compliant? Was she strong and defiant? Did she interrogate the Angel?
It is an amazing exercise to act out the scene imagining Mary with different personality traits.
These reflections are important because they help us explore the idea of God's will and how we exercise our capacity for free will in that context. Could Mary have said 'no' to the angel's request? I understand that the answer to that question is, 'Yes, she could have said "no"'.
Rilke in the poem, The Annunciation to Mary, explores the idea of Mary being of equal stature to the angel. The angel was as afraid as she was during the encounter, and yet there was a deep connection between the two. Out of that deep relationship and encounter, Mary felt enabled to say 'Yes'.
The encounter invites us to reflect on the times we have felt a deep connection to God and others and the way that sense of connection enables us to act in adventurous ways.
Peace,
Peter+
Monday 13th December, 2021
Tonight at 6pm St John's will be hosting a United Nations Association of Australia (UNAA) event in honour of International Human Rights Day.
Click for more
As we observe this important day, I want to reflect on the idea that individualism is an increasing threat to individual rights.
Individualism is an increasing threat to individual rights.
The thing about our basic rights is that they can only find genuine and universal expression in a social context; they need society to operate in a particular way for them to be delivered. So, our rights to feel safe, and to have access to clean water, good sanitation, health care and education can only be universally accessed when there are societal systems that enable and protect them. These systems ensure that education and health care, for example, can be accessed by the poor. Access is not restricted to those who can afford to pay; access is by right and enabled by a particular way of being together.
Christian social teaching refers to the framing that guides the development of such a society as the pursuit of the common good.
Vatican II expressed the concept of common good in this way:
The common good is the sum of those conditions of social life which allow social groups and their individual members relatively thorough and ready access to their own fulfillment.
Individualism is seen as an increasing threat to individual rights because there is an developing tendency to see rights as pertaining to the individual in isolation, as not being dependent on the social context. This leads to many losing sight of the role that the social context plays in ensuring that our rights are not only safeguarded, but also enabled.
One example of how this is playing out is provided by the pursuit of what is claimed to be 'the right to bear arms' in the USA.
In Australia in 2019, the figure for gun deaths by homicide and suicide was 0.88 per 100 000. In the USA, the figure for 2017 was 12.21 per 100 000. Further, since we implemented stricter gun control in 1996 there have been no mass shootings in Australia, while in the USA, in 2020 alone, there were 611.
The above means that in the USA, society is not organised in a way to enable people to have access to such a basic right as the right to be safe. Every year, thousands of people have their individual right to life and their right to live in safety obliterated by individuals claiming a 'right' to bear arms.
The US therefore fails the basic common good test when it comes to the right to safety. Australia does a better job, but given that we still have way more deaths than say, Japan, the principle of pursuing the common good invites us to ask if we could be doing more.
So, as we observe Human Rights Day, we would do well to reflect on how increasing individualism is undermining individual freedoms by recrafting society in ways that make it more difficult to pursue the common good. And as we do that, we can take a close look at some of the 'rights' that are being claimed in the public discourse and protest around vaccination.
Peace,
Peter+
Monday 6th December, 2021
As we continue our Advent journey I return to one of my favourite Advent poems, The Kingdom, by R S Thomas…
Click for more
It's a long way off but inside it
There are quite different things going on:
Festivals at which the poor man
Is king and the consumptive is
Healed; mirrors in which the blind look
At themselves and love looks at them
Back; and industry is for mending
The bent bones and the minds fractured
By life. It's a long way off, but to get
There takes no time and admission
Is free, if you purge yourself
Of desire, and present yourself with
Your need only and the simple offering
Of your faith, green as a leaf.
                   The Kingdom, R S Thomas
I see the poem as an Advent poem because in Advent we seek to imagine what the world will be like when it reaches its fulfilment, when the prophetic imagination is realised, and this poem gives us some hints about what that means and how we get there.
The poem suggests that while at one level the kingdom, the place of fulfilment, is way, way off, at another level we can see that it would not take much for a lot of its potential to be realised. After all, we live is world that produces more than enough food to feed everyone, so with just a little bit of imagination and generosity all the hungry could be fed.
The poem therefore is important to me as its speaks to the Advent theme of hope. We can make a difference through the exercising of our faith, and living the hope we proclaim.
Peace,
Peter+
Monday 29th November, 2021
He will come like last leaf's fall….
Click for more
One night when the November wind
has flayed the trees to the bone, and earth
wakes choking on the mould,
the soft shroud's folding.
 He will come like frost.
One morning when the shrinking earth
opens on mist, to find itself
arrested in the net
of alien, sword-set beauty.
 He will come like dark.
One evening when the bursting red
December sun draws up the sheet
and penny-masks its eye to yield
the star-snowed fields of sky.
 He will come, will come,
will come like crying in the night,
like blood, like breaking,
as the earth writhes to toss him free.
He will come like child.
                  Advent Calendar, Rowan Williams
The Season of Advent began on Sunday. Advent begins the Church year and serves a double purpose. It provides us with four weeks to prepare for Christmass as the Feast of the Coming of Christ. It also invites us to be on alert for the many ways in which Christ comes to us and for the fulfilment of all things in Christ. Rowan Williams' poem captures this theme beautifully; Christ comes as leaf fall, frost, dark and child.
How has Christ appeared to you?
Peace,
Peter+
Monday 22nd November, 2021
Our King is calling from the hungry furrows…

Click for more
Whilst we are cruising through the aisles of plenty,
Our hoardings screen us from the man of sorrows,
Our soundtracks drown his murmur: 'I am thirsty'.
He stands in line to sign in as a stranger
And seek a welcome from the world he made,
We see him only as a threat, a danger,
He asks for clothes, we strip-search him instead.
And if he should fall sick then we take care
That he does not infect our private health,
We lock him in the prisons of our fear
Lest he unlock the prison of our wealth.
But still on Sunday we shall stand and sing
The praises of our hidden Lord and King.
                   Malcolm Guite, Christ the King
Sunday was the Feast of Christ the King. More recently it has been referred to as The Reign of Christ.
Malcolm Guite's poem reminds us that the use of the term King by and about Jesus was meant to unsettle our image of King; to overturn it in fact.
It is often the case, however, that rather than overturning our understanding of the concept of King, the commonly held understanding of a king is applied to Jesus and is used to transform our understanding of him. So Jesus as King becomes remote and separated from the life we live.
Malcolm Guite invites us to reaffirm that the one who yesterday's feast holds to be reigning is calling to us, not from a gilded throne, but rather from the hungry furrows so that we might be set free from the prisons of our fear.
Peace,
Peter+  
Monday 15th November, 2021
No one lives his life….
Click for more
Disguised since childhood,
haphazardly assembled
from voices and fears and little pleasures,
 We come of age as masks.
Our true face never speaks.
 Somewhere there must be storehouses
where all these lives are laid away
like suits of armor or old carriages
or clothes hanging limply on the walls.
 Maybe all paths lead there,
to the repository of unlived things.
                  Rilke's Book of Hours: Love Poems to God
This poem by Rilke is one of the most devastating I have ever read. R S Thomas', The Island, beats it by a whisker.
Rilke's poem suggests that we are each so shaped by life events, the voices of parents and the opinions of others that our true self is lost, consigned to the repository of unlived things.
I actually don't share Rilke's view, but do take it as a potent warning. I think it is possible to live an authentic life, to be true to oneself.
The poem stands as warning because there are incredible pressures on us to conform, to be silent in the face of structural injustice and to accept that the way things are is the way they have to be.
Through Baptism followers of The Way are called to recognise that they are unique, uniquely gifted and uniquely loved. One of the calls this places on us is the we allow our true face to speak.
Peace,
Peter+
Monday 8th November, 2021
The little lives of earth and form….
Click for more
Of finding food, and keeping warm,
Are not like ours, and yet
A kinship lingers nonetheless:
We hanker for the homeliness
Of den, and hole, and set.
 And this identity we feel
– Perhaps not right, perhaps not real –
Will link us constantly;
I see the rock, the clay, the chalk,
The flattened grass, the swaying stalk,
And it is you I see.
                The Little Lives Of Earth And Form,
Philip Larkin
Philip Larkin's little poem simply seeks to remind us that we are more like the other creatures that inhabit this planet than western human hubris likes to think. We all want to have a warm and dry place to sleep and hope not to go to bed hungry. Larkin invites us to look at the other creatures and see ourselves.
For the Cop26 meeting in Glasgow to be success, those leading the negotiations will need to find the capacity to see the 'other' – whether that 'other' be a human from a less developed nation or a creature whose habitat is under threat – and respond with empathy and compassion.
Thus far Australia has been portrayed as selfish nation as our politicians look to short-term outcomes. My prayer is that those who hold a more expansive vision of what life can be, the life we proclaim as the Commonwealth of God, will capture the imaginations of those who are determined to hold us back.
Peace,
Peter+
Monday 1st November, 2021
In his preface to Charles Williams' novel, All Hallows' Eve, T S Eliot wrote….
Click for more
The deeper things are there just because they belonged to the world he lived in, and he could not have kept them out. For the reader who can appreciate them, there are terrors in the pit of darkness into which he can make us look; but in the end, we are brought nearer to what another modern explorer of the darkness has called "the laughter at the heart of things."
All Hallows' Eve or Halloween has long-held a place in the public imagination. These days it plays out as something of a pantomime, with over-the-top costumes and 'trick and treating'. Yet dressing up, special food and lanterns made of vegetables were all part of the Christian festival of All Hallows' Eve.
The interest in All Hallows' Eve, the day – and more especially the night – before All Saints' Day, reflects our human fascination with death, with what happens to the dead after they have been alive and the with the space between life and death.
Various parts of the Christian tradition hold that those who have died journey towards heaven after death, or that they do 'soul work' after death, or that some go to a place of waiting. Words such a Purgatory and Hades capture some of this.
If nothing else, these posturings remind us that each of us carries with us a sense that sometimes things can be in-between; that unfinished business can hold us back and that we can experience dark things, even when we believe that the light will eventually conquer the darkness.
Days like Holy Saturday, which reminds us that sometimes the only thing we can do is wait, and All Hallows' Eve, which reminds us that there will be times when we have to look at what T S Eliot called 'the terrors in the pit of darkness', play an important role is helping us live into life's liminality.
I think T S Eliot was also correct when he suggested that it is through embracing these journeys into uncertainty that we find that the path leads us to experience "the laughter at the heart of things."
Peace,
Peter+
Monday 25th October, 2021
So early it's still almost dark out….
Click for more
I'm near the window with coffee,
and the usual early morning stuff
that passes for thought.
When I see the boy and his friend
walking up the road
to deliver the newspaper.
They wear caps and sweaters,
and one boy has a bag over his shoulder.
They are so happy
they aren't saying anything, these boys.
I think if they could, they would take
each other's arm.
It's early in the morning,
and they are doing this thing together.
They come on, slowly.
The sky is taking on light,
though the moon still hangs pale over the water.
Such beauty that for a minute
death and ambition, even love,
doesn't enter into this.
Happiness. It comes on
unexpectedly. And goes beyond, really,
any early morning talk about it.
                   Happiness, from All of Us: The Collected Poems,Raymond Carver.
Whenever I announced a life decision to my mum she would ask just one question, 'Are you happy?'
Happiness, like joy, is a rather skittish concept. Both are deeper and more complex than we sometimes imagine. I think they are also closely linked. Raymond Carver's poem, Happiness, I think captures that connection. One can sense the deep joy that the boys in the poem are experiencing, the joy of being alive and the joy of friendship, as well as their profound happiness.
Aristotle suggested that true happiness was to be found when one found oneself doing what one is supposed to be doing. In Christian parlance we would say happiness lies in living out one's vocation.
This understanding of happiness, and of joy, points us to the fact that true happiness can be experienced even in the midst of challenging circumstances.
Peace,
Peter+
Monday 18th October, 2021
As kingfishers catch fire, dragonflies dráw fláme; …   
Click for more
As tumbled over rim in roundy wells
Stones ring; like each tucked string tells, each hung bell's
Bow swung finds tongue to fling out broad its name;
Each mortal thing does one thing and the same:
Deals out that being indoors each one dwells;
Selves—goes itself; myself it speaks and spells,
Crying Whát I do is me: for that I came.
Í say móre: the just man justices;
Kéeps gráce: thát keeps all his goings graces;
Acts in God's eye what in God's eye he is—
Chríst—for Christ plays in ten thousand places,
Lovely in limbs, and lovely in eyes not his
To the Father through the features of men's faces.
                            Gerard Manley Hopkins, As Kingfishers Catch Fire
A few weeks ago I referred to another of Gerard Manley Hopkins' poems, God's Grandeur. In it Hopkins celebrates the gift of nature, which he sees as revealing the beauty of God, and finds himself wondering why humanity treats it with such disrespect.
In As Kingfishers Catch Fire Hopkins again proclaims the magnificent capacity that nature has to reveal God and reminds us that even the stones have value simply because they are. His poetry provides a significant challenge to our utilitarian culture which values things, even people, on the basis of their usefulness to humans.
Today is the Faiths4Climate Day of Action. I and a number of people of varying faiths took part in a vigil outside the office The Member for Brisbane, Trevor Evans, during the morning. We are calling on the Federal Government to set meaningful and significant targets for carbon pollution reduction by 2030.
Hopkins speaks for people of all faiths when he proclaims the value of nature. The approaching COP26 in Glasgow will provide our leaders and leaders from around the world with the opportunity to show that they too appreciate nature's gifts and beauty.
Peace,
Peter+
Monday 11th October, 2021
The house of my being was not secure against the elements…
Click for more
and too many windows were open.
A stormy wind hurled me along a passage,
and my foot dis­lodged the catch of a trapdoor that I did not know existed.
I fell down rotten steps,
the door clanged shut,
and I land­ed unconscious on the stone floor of a dark cellar.
There was enough air through a ventilation shaft for survival.
From time to time voices and shadowy figures would im­pinge on my awareness,
and they became clearer as my eyes got used to the dark.
Some were earthed enough to sit with me without intruding
and helped me discover that the stone floor was trustworthy.
And little by little the steps were re­paired with the help of 'angel-messengers'
descending and ascending upon them.
A few sat on the top step and blocked out the light …
                       Brainsquall, Jim Cotter
Jim Cotter was a Welsh Anglican Priest and poet. In 1994 he suffered a breakdown. This was followed by a time in deep depression. He kept a record of his depression journey which he titled, Brainsquall. The excerpt above is his description of a dream he had as he descended into the depression.
I read Brainsquall when it first came out. At the end of that read I felt that for the first time in my life I had gained some sense of the experience that people with severe mental illness have to endure. I caught a glimpse of how deep and profound such experiences can be. It helped me learn how to listen to those who are experiencing a mental health crisis and showed me the importance of being present and available for those who find themselves in some of the earth's darkest places. In Brainsquall, Jim pays tribute to the friends who kept on turning up.
In more recent times I have found Les Murray's poetry equally helpful.
We are currently in Mental Health week; a week to listen and attend.
Peace,
Peter+
Monday 4th October, 2021
'Francis rebuild my church which, as you see is falling into ruin….

Click for more
'From the cross
Your saviour spoke to you and speaks to us
Again through you. Undoing set you free,
Loosened the traps of trappings, cast away
The trammelling of all that costly cloth
We wind our saviour in. At break of day
He set aside his grave-clothes. Your new birth
Came like a daybreak too, naked and true
To poverty and to the gospel call,
You woke to Christ and Christ awoke in you
And set to work through all your love and skill
To make our ruin good, to bless and heal
To wake the Christ in us and make us whole.
                       Malcolm Guite, Sonnet for St Francis
 Today is the Feast of St Francis and the last day of the Season of Creation.
Guite's marvellous poem reminds us that Franics not only experienced a deep sense of connection to the other creatures, whom he saw as sisters and brothers, but was also moved to challenge the church to be renewed.
At the core of Francis' call was the need to see Christ in the poor and for the rest of us to be transformed in our relationship to possessions.
This is an astonishingly difficult challenge to hear from within the context of our culture. Nigh on impossible in fact… Bound to be resisted.
And yet, the connection between acquisitiveness and the eco-catastrophe is something we are going to come face-to-face with more and more.
May Francis' example give us the courage to face this incredible challenge.
Peace,
Peter+
Monday 27th September, 2021
The world is charged with the grandeur of God…
Click for more
    It will flame out, like shining from shook foil…..
God's Gandeur, Gerard Manley Hopkins
Gerard Manley Hopkins was writing his poetry in later half of the Nineteen century. He was enamoured by the beauty of the natural world and the way it manifested the presence of God.
He was also troubled by the effect that the industrial revolution was having on people and the environment. It was the era of working-class slums and heavily polluted rivers and air. And so, his poem, God's Grandeur, continues:
Why do men then now not reck his rod?
Generations have trod, have trod, have trod;
And all is seared with trade; bleared, smeared with toil;
And wears man's smudge and shares man's smell: the soil
Is bare now, nor can foot feel, being shod.
Hopkin's concern was shared by many poets. William Blake, predated Hopkins but shared his also concern. His poem, Jerusalem, visions England as a holy land: 
And did those feet in ancient time
Walk upon Englands mountains green:
And was the holy Lamb of God,
On Englands pleasant pastures seen!
But laments the disfiguring presence of the dark Satanic Mills.
Blake then dedicates himself to fulfilling a vision of the earth restored. He will not rest
Till we have built Jerusalem,
In Englands green & pleasant Land.
Thomas Traherne provides a third example of this doublet that celebrates the presence of God in creation while lamenting the loss of that appreciation by many in his day. In his work The First Century, he first points the reader to the delight of being connected to the natural world: 
You never enjoy the world aright, till the Sea itself floweth in your veins, till you are clothed with the heavens, and crowned with the stars: and perceive yourself to be the sole heir of the whole world, and more than so, because men are in it who are every one sole heirs as well as you. Till you can sing and rejoice and delight in God, as misers do in gold, and Kings in sceptres, you never enjoy the world.
He then shares his lament and concern:
Yet further, you never enjoyed the world aright, till you so love the beauty of enjoying it, that you are covetous and earnest to persuade others to enjoy it. And so perfectly hate the abominable corruption of men in despising it that you had rather suffer the flames of hell than willingly be guilty of their error.
There is some comfort, a kindling of optimism, to be had as we note that previous generations faced an ecological crisis, a crisis that was largely overcome. Today England is far more green and pleasant land than it was in the days of Blake.
May their gift to us be a sense of optimism that we will see us tackle the ecological crisis that faces us.
Peace,
Peter+
Monday 20th September, 2021
I've always tried to make a home for myself,…..
Click for more
but I have not felt at home in myself.
I've worked hard at being the hero of my own life.
But every time I checked the register of displaced persons,
I was still on it.
I didn't know how to belong.
Longing? Yes.
Belonging? No.
            Jeanette Winterson, Why Be Happy When You Could Be Normal?
The title of Jeanette Winterson's memoir, Why Be Happy When You Could Be Normal?, comes from a comment that her adoptive mother made as she was evicting Jeanette from the family home. Jeanette was 16 years old.
Jeanette had just revealed that for the second time in her life she had a girlfriend. The meant that the adoptive mother's attempts to have the 'lesbian' demon exorcised, following the discovery of the first girlfriend, had failed. And so, Jeanette herself was now to be 'cast out'.
Why be happy when you could be normal?
Later in the memoir we discover that Jeanette's adoptive mother had also sacrificed happiness for 'normality'. 
The whole tale is one of the tragic waste of human potential.
Our culture, and much of the church, is still incredibly cruel to LGBTQI+ people.
I am constantly in awe of the LGBTQI+ people I encounter though my life and ministry. Most of them have had to struggle against some version of the pressure to conform to 'normality' at the cost of, not only happiness, but of their true self.
I for one, today, wish to honour the way so many hold to the living of an authentic life in the face of such a nihilistic demand.
The Cathedral Community is observing Pride Month during September.
Peace,
Peter+
Monday 13th September, 2021
Earth burning mother
Hear the roar, feel the heat…
Click for more
Hearts rapid beat, screams, cry, weep
Consciousness must awaken
Ancestors whisper in the wind
Ensures a timely roar
Totems burning, trees gone it's time
Return to sacred now
Join hands awaken
honour first people's knowledge
Ones who walked the earth since the Dreamtime
listen and learn proper way
Fire knowledge passed down
Respect and honour fire wisdom
Care for land the right way
Ancient teachings state
time to listen
Interconnectedness is the only way forward
bring back pride in our countries Indigenous knowledge and wisdom
We share in this together embrace each other live in harmony
the animals, birds, and plants are our kin
Respect them and each other
that is the one truth
for our Mother Earth our creator she nurtured all
It's time
to grow up the country proper way
Indigenous sacred way now.
                      Earth Mother by 'Miimi and Jiinda' – Gumbaynggirr Elder Lauren Jarrett and her Daughter – Culture is Life's National Project Manager – Melissa Greenwood.
As we move into the second week of the season of creation we are encouraged to embrace the idea that the eco-catastrophe and the climate emergency, which is part of the the eco-catastrophe, present humanity with a very complex set of issues. Simple responses to complex problems are never helpful.
To deal with the complexity that faces us we are going to need to listen well to the various sources of wisdom that are available to us: scientists and experts, technocrats and innovators, farmers and ecologists. We are also fortunate to have the wisdom of our first peoples, the people who have lived in and with this land for millennia.
At its best the Christian community is a listening community; it seeks to train itself to listen to the 'still small voice' of God. Perhaps our role in responding to the eco-catastrophe might be to model good listening to a world that has become increasingly full of shouting.
Peace,
Peter+
Monday 6th September, 2021
My profession is to be always on the alert to find God in nature – to know his lurking places to attend to all the oratorios and the operas in nature.
Henry David Thoreau (Notebook)
Click for more
Henry David Thoreau took himself off to live for two years, two months and two days in a cabin that built for himself in Massachusetts.
He attended to the place, observing the species of animal, fish, plants and trees, making notes and writing poetry in response to what he was experiencing. He was deeply transformed by the experience.
As we enter more deeply into the Season of Creation, Thoreau's experience invites us to reflect on separated many of us have become from what we 'other' through the use of the word nature.
How can we reconnect to the world in which we live and move and have our being so that we too can be moved by the oratorios preformed by God in the world?
Peace,
Peter+
Monday 30th August, 2021
 
"LAUDATO SI', mi' Signore" – "Praise be to you, my Lord"…..
Click for more
In the words of this beautiful canticle, Saint Francis of Assisi reminds us that our common home is like a sister with whom we share our life and a beautiful mother who opens her arms to embrace us. "Praise be to you, my Lord, through our Sister, Mother Earth, who sustains and governs us, and who produces various fruit with coloured flowers and herbs".
This sister now cries out to us because of the harm we have inflicted on her by our irresponsible use and abuse of the goods with which God has endowed her. We have come to see ourselves as her lords and masters, entitled to plunder her at will. The violence present in our hearts, wounded by sin, is also reflected in the symptoms of sickness evident in the soil, in the water, in the air and in all forms of life. This is why the earth herself, burdened and laid waste, is among the most abandoned and maltreated of our poor; she "groans in travail" (Rom 8:22). We have forgotten that we ourselves are dust of the earth (cf. Gen 2:7); our very bodies are made up of her elements, we breathe her air and we receive life and refreshment from her waters.
Nothing in this world is indifferent to us
The first two paragraphs of Laudato Si, Pope Francis' second encyclical, set the scene for us as we prepare to enter the Season of Creation.
The Season of Creation commences on September 1, the day the Orthodox Churches celebrate Creation Day, and concludes on October 4, The Feast of St Francis of Assisi, the Western Church's ecological saint.
Pope Francis reminds us that at its heart the ecological crisis and the related climate crisis both trace their origins to a breakdown in our relationship with our sister, Mother Earth. In this season we will reflect deeply on how we might be restored to right relationship.
Nothing in this world is indifferent to us
Peace,
Peter+
Monday 23rd August, 2021
A Lament for Afghanistan
O my idol! A cloud from Paradise….
Click for more
Has bestowed an emerald gown on the earth.
Deserts are like blood-stained silk
And the sky has the fragrance of musk.
With a mixture of musk and red wine
An artist has drawn an image of my love on the desert.
The world has become peaceful
For both the tiger and the deer.
For such occasions. we need a sun-faced idol,
And a moon. leaning on a cushion of sun.
We must have an idol with cheeks like rubies,
And red wine to match the cheeks.
The world has become a peacock,
With roughness here and smoothness here.
Mud smells of roses,
As though kneaded with rose water.
                                                Daqiqi of Balkh
I have been reeling as result of the imagery and reportage that has been coming out of Afghanistan in the wake of the Taliban's takeover of the nation.
I am deeply saddened by what I imagine will be the plight of women and girls. I can only imagine the feeling of terror that must be surging through religious minorities, those who assisted western nations and who have now been betrayed and abandoned to their fate, those who are fleeing and those who are unable to flee, those who face certain death.
I find myself thinking too, of those who gave themselves so wholeheartedly to the mission to which our government committed us; those who must be questioning whether it might all have been in vain; those who loved ones were killed or permanently altered.
It is a complex time, and the series of emotions are just as complex.
As is often the case when I face complexity, I turn to the poets. Today's poem is by the Afghan (Persian) poet Daqiqi of Balkh.
Peace,
Peter+
Monday 16th August, 2021
Planet-Centred
Civilized, crying: how to be human again; this will tell you how…
Click for more
Turn outward, love things, not men, turn right away from humanity,
Let that doll lie. Consider if you like how the lilies grow,
Lean on the silent rock until you feel its divinity
Make your veins cold; look at the silent stars, let your eyes
Climb the great ladder out of the pit of yourself and man.
Things are so beautiful, your love will follow your eyes;
Things are the God; you will love God and not in vain,
For what we love, we grow to it, we share its nature. At length
You will look back along the star's rays and see that even
The poor doll humanity has a place under heaven.
Its qualities repair their mosaic around you, the chips of strength
And sickness; but now you are free, even to be human,
But born of the rock and the air, not of a woman.
                                         Sign-post, Robinson Jeffers
Robinson Jeffers was an American poet who died in 1962. He was deeply troubled by humanity's self-centred approach to the earth and nature.
William Everson, in Robinson Jeffers: Fragments of an Older Fury, suggests that Jeffers 'saw that only a humanity which contemplates unremittingly the divine Otherness can be whole, can maintain wholeness; that a humanity turned from contemplation inevitably becomes obsessed with itself'.
Although Jeffers was writing over half-a-century ago, his poetry places before something of the nature of the significant challenge we face as we come to terms with the Climate Crisis.
The relational and spiritual aspects of the challenge of dealing with climate change are not often included in the conversation we are having about how we move forward. Most often the needed response is seen in simple terms: reducing our carbon emissions, installing solar panels, buying electric cars, and eating less meat.
Understanding that the way out of the crisis also involves attending to the way we relate to the other creatures, to the planet as whole, and to our spirituality, helps us appreciate that both the problem and our response are more complex than they often appear. We must attend to the way we understand ourselves in nature and look for ways to live in balance.
Recognising the complexity of the situation enables us to look carefully at the simplistic approaches to solving the climate crisis that have been offered so far. Following simplistic solutions might see us trash the planet as we mine Lithium and ever more iron ore, further adding to the ecological crisis that is also with us.
Appreciating the complexity allows us to explore options that are more transformative than the simplistic approaches at present on offer.
Climb the great ladder out of the pit of yourself and man.
Things are so beautiful, your love will follow your eyes.
Things are the God, you will love God, and not in vain.
For what we love, we grow to it, we share its nature. …
Now you are free to become human.
Peace,
Peter+
Monday 9th August, 2021
Ordinary Time
In terms of our worshipping life, we are into the long stretch of the year between the seasons of Lent/Easter and Advent…
Click for more
This long series of weeks used to be known as Ordinary Time. Nowadays we call them the Sundays after Pentecost.
Despite the name change these 'Ordinary' Sundays still stand to remind us that life is made up of very ordinary living. The following poem by Ken Sehested invites to discover the gifts they contain.
There are, to be sure, moments of high drama in the work of holy obedience:
marches to be made, confrontations to be staged,
dangers to be endured,
corruption to be exposed, trips made to distant or
unfamiliar places,
occasional rackets to be raised,
maybe even jail cells to be filled.
On rare occasions, the whole world is watching.
Much more often, the storyline of faith is lived without
notoriety, is forged without fanfare:
in familiar places, in small acts of courage
resisting petty tyrants,
with commonplace forbearance
in the midst of garden-variety stress.
Much more often faith is mapped by intersections
with family and friends and neighbors and co-workers,
in traffic lanes and grocery store lines,
with tired children and harried partners.
All the while—like crack to the addict, drink to the drunk
the bread of anxious toil seduces with its illusory bliss.
To be sure, dragons need to be slain. Much more often,
though, gardens need to be groomed,
young ones tutored and old ones cherished,
watersheds protected, hobbled ones freed,
and civility practiced.
Mostly it's these thousand million little things,
the minute particulars that, strand-by-strand,
are needed to reweave life's shapely, sturdy fabric.
For these, persevering patience is more imperative
than conspicuous daring.
For these, tireless collaboration is
more important than personal heroism.
Give thanks and praise in these most ordinary of days.
                              Ken Sehested, Most ordinary of days: A prose poem for 'Ordinary Time', inspired by Galatians 5:19-26
Monday 2nd August, 2021
Earth Overshoot Day
Last Thursday we observed Earth Overshoot Day….
Click for more
Earth Overshoot Day is the day when humanity's demands for ecological resources (such as water, fish and other living creatures, forests and soil), exceeds what the Earth can renew in a year. More info: WWW.OVERSHOOTDAY.ORG. The fact that overshoot day occurs so early in the year means that we are running the Earth down.
As I see it, Overshoot Day asks three things of us:
1. To see that it is a more significant (and interrelated) challenge to our future survival than Climate Change. In fact, some of our solutions to Climate Change would see us using even more resources and so speeding up the depletion the earth.
2. To recognise that we need to attend to our relationship with the planet. We are called to overcome the idea that the planet is somehow 'other' to we humans. We are not separate but part of the whole. This means that there is 'spiritual' and relational aspect to the work we need to do to get ourselves out of the crisis in which we find ourselves.
3. To appreciate that the way ahead will only emerge once we have accepted that we are dealing with an incredible amount of complexity. Simplistic solutions, such as only moving to (the necessary) end of the use of fossil fuels without reducing our demands on the planet will not get us out of this problem.
Ultimately, we need individual and collective "ecological conversion".
Monday 26th July, 2021
The Way of the Wise
The first king was on horseback.
The second a pillion rider.
The third came by plane…
Click for more
The first king was on horseback.
The second a pillion rider.
The third came by plane…
 Where was the god-child?
He was in the manger
with the beasts, all looking
 the other way where fourth
was a slow dawning because
wisdom must come on foot.
                      A Slow Dawning — R S Thomas, Counterpoint (1990)
In A Slow Dawning R S Thomas plays with the imagery of the three kings visiting the Christ child. He introduces a fourth king to the story. The first three arrive using forms of rapid transport. They rush at and into the Christmass scene.
The fourth, wisdom, takes time to arrive.
The writers of the Wisdom literature we find in Biblical books like Proverbs help us to understand the essence of wisdom. They do this by comparing and contrasting the behaviour of the wise one and the foolish, the unwise.
       Those who gather crops on time are wise, but those who sleep through the harvest are a disgrace. (Proverbs 10.5)
       Wise people think before they act; fools don't—and even brag about their foolishness. (Proverbs 13:16).
       The way of fools seems right to them, but the wise listen to advice. (Proverbs 12:15).
Wisdom is a slow mover because wisdom comes from seeing clearly, noticing, and then thinking carefully about what is happening before acting. Sadly, intelligence is not a measure or guarantee of wisdom.
Peace,
Peter+
Monday 19th July, 2021
Compassion
Of all the public places, dear
to make a scene, I've chosen here.
Of all the doorways in the world…
Click for more
to choose to sleep, I've chosen yours.
I'm on the street, under the stars.
 For coppers I can dance or sing.
For silver-swallow swords, eat fire.
For gold-escape from locks and chains.
 It's not as if I'm holding out
for frankincense or myrrh, just change.
 You give me tea. That's big of you.
I'm on my knees. I beg of you.
                                              Give, Simon Armitage
One of the pivotal aspects of last Sunday's gospel story was that of Jesus being moved with compassion for the crowds. Compassion is a deeply felt emotion. In fact, the Greek word used in the New Testament which we translate as compassion, literally means 'to have your intestines wrenched'; to feel for another in the depths of your being; in your bowels.
The thing about compassion is that it spurs the one who feels it into action; it makes them into agents of change. Whether we become change agents or not in response to the plight of another, reveals whether we have felt compassion for them or merely felt pity. Experiencing pity in response to the plight of another leads us to hand out food and blankets. If we have compassion for them, we are driven to want to change the system. Pity can get fatigued; compassion doesn't.
In his poem, Give, Simon Armitage plays with the word change. At first reading the homeless person who has inconveniently appeared on the front step of a hapless householder might be understood to be asking for a few small denomination coins. A deeper reading suggests that the change they are seeking is the one that can only be achieved by transformation.
Peace,
Peter+ 
Monday 12th July, 2021
Fragility
There are so many fragile things, after all.
People break so easily,
and so do dreams and hearts.
         Neil Gaiman, Fragile Things: Short Fictions and Wonders
Click for more
I have been thinking a lot about fragility lately, and about how we need to give it more attention.
The response to the Covid-19 pandemic, political shenanigans, the plight of our planetary system and the stories I have been hearing from members of our faith community have all led me down this path.
Authorities in various jurisdictions, football players and people who think that their party must go ahead have failed to see how fragile the safe place we have managed to create in this covid-affected world is, and how easily that safe place can slip away.
Many of our political leaders are prepared to stretch our democratic framework for short-term gain. Rorting, prideful, naked contempt for accountability, cynical messaging and pandering to powerful interest groups, all undermine the confidence that the people have in our institutions. Our institutions float on a thin bubble of trust. It is more fragile than a butterfly's' wing.
The sheer size of the earth and its abundance – its extravagant abundance – lead us to think that it is stable and infinite. In fact, it is fragile, held together by frogs eggs and gossamer threads. The recent heatwaves in North America, wildfires across the globe, including here, remind us of the inevitable consequences of shattering the earth's system. No amount of political spin or hubris-driven self-assurance will put a shattered eco-system back together.
People are fragile too. Our culture talks too much about independence, resilience, and self-reliance. Such talk makes people feel like they must be strong and impervious. Many assume that others can and should take whatever they dish out. Yet the truth is that some who seem to have it all together are holding on by their fingernails.
If we understood one another's fragility, we would be more kind.
Peace,
Peter+
Monday 5th July, 2021
NAIDOC Week
This week is NAIDOC week.
The theme for the Week in 2021 is Heal Country.
Click for more
We are invited to recognise that the wisdom possessed by the First Nations people of this land, a wisdom that recasts our understanding of our relationship with and to land, provides us with a way of dealing with the ecological and climate catastrophes that have been manufactured by our current approach to land. It is a week for dedicating ourselves to listening.
Look up, my people,
The dawn is breaking,
The world is waking
To a new bright day,
When none defame us,
No restriction tame us,
Nor colour shame us,
Nor sneer dismay.
Now brood no more
On the years behind you,
The hope assigned you
Shall the past replace,
When a juster justice
Grown wise and stronger
Points the bone no longer
At a darker race.
So long we waited
Bound and frustrated,
Till hate be hated
And caste deposed;
Now light shall guide us,
No goal denied us,
And all doors open
That long were closed.
See plain the promise,
Dark freedom-lover!
Night's nearly over,
And though long the climb,
New rights will greet us,
New mateship meet us,
And joy complete us
In our new Dream Time.
To our fathers' fathers
The pain, the sorrow;
To our children's children
The glad tomorrow.
                   A Song of Hope, Oodgeroo Noonuccal.
Peace,
Monday 28th June, 2021
Coming of the Light
This Thursday, 1 July, is the 150th anniversary of The Coming of the Light to the Torres Strait Islands.
A Reflection from the Anglican Board of Mission, Australia:
Click for more
The London Missionary Society with Melanesian leaders landed on the shores of Darnley Island and introduced the Bible to the people who lived there. This event, The Coming of the Light, is an integral part of cultural identity to Torres Strait Islander peoples. It is marked as a public holiday within the region and there is much joy around its anniversary. It is also an important anniversary for the national Anglican church, hence its being in our lectionary.
The Coming of the Light invites us to reflect on our national history, on the good and the bad. It invites us to celebrate mission and ministry, particularly within the Torres Strait, and it invites us to listen to the church in the Torres Strait, which is made up of vibrant communities of hope.
In 2020, the Melanesian Brotherhood established a household on Thursday Island. The Melanesian Brotherhood is the world's largest Anglican religious order and is headquartered in the Solomon Islands. The Brothers will live and minister at the cathedral on Thursday Island, nurturing community and supporting clergy and lay ministers across the islands of the Torres Strait.
The Anglican Church of Australia faces many challenges, and in the words of the Rev'd Canon Victor Joseph, it is time for the church to be "missioned to" by Aboriginal and Torres Strait Islander Christian leaders. The church in the Torres Strait has much to teach the church around Australia, much salt and light to offer. The Coming of the Light is not simply an historic event, it is an invitation for all of us to be changed by the work of God in the Torres Strait.
St John's will be hosting an event to celebrate this anniversary on Sunday 4th July at 2pm.
Peace,
Peter+
Monday 21st June, 2021
Refugee Week
On 1st May 1517 the streets of London erupted. Angry locals attacked immigrants and looted their homes. Thomas More was the deputy sheriff of London at the time. He tried to protect the immigrants by reasoning with the crowd. The day came to be known as Evil May Day.
Click for more
In the late 16th Century William Shakespeare and two collaborators sought to bring prominence to the story. They wrote a play called The Book of Sir Thomas More. Shakespeare was responsible for penning a pro-immigrant speech which is placed on the lips of More. The original hand written manuscript of the speech is the only piece of writing existing in Shakespeare's hand.
The authorities at the time banned the book and prevented the play from being performed for fear that its pro-immigrant stance would stir up resentment. The book was banned for 400 years.
Here is part of the speech Shakespeare wrote:
Imagine that you see the wretched strangers,
Their babies at their backs and their poor luggage,
Plodding tooth ports and costs for transportation,
And that you sit as kings in your desires,
Authority quite silent by your brawl,
And you in ruff of your opinions clothed;
What had you got? I'll tell you. You had taught
How insolence and strong hand should prevail,
How order should be quelled; and by this pattern
Not one of you should live an aged man,
For other ruffians, as their fancies wrought,
With self same hand, self reasons, and self right,
Would shark on you, and men like ravenous fishes
Would feed on one another.
                          Sir Thomas More: Act 2, Scene 4
Shakespeare invites the reader to stand in the shoes of the despised immigrant.
What if it were you seeking asylum?
This week is Refugee Week.
The challenges remain unchanged.
Peace,
Peter+
Monday 7th June, 2021
PTSD (Land Forces Expo II)
Hi,
Bent double, like old beggars under sacks,
Knock-kneed, coughing like hags, we cursed through sludge,
Till on the haunting flares we turned our backs,
And towards our distant rest began to trudge…
Click for more
Hi,
Bent double, like old beggars under sacks,
Knock-kneed, coughing like hags, we cursed through sludge,
Till on the haunting flares we turned our backs,
And towards our distant rest began to trudge.
Men marched asleep. Many had lost their boots,
But limped on, blood-shod. All went lame; all blind;
Drunk with fatigue; deaf even to the hoots
Of gas-shells dropping softly behind.
Gas! GAS! Quick, boys!—An ecstasy of fumbling
Fitting the clumsy helmets just in time,
But someone still was yelling out and stumbling
And flound'ring like a man in fire or lime.—
Dim through the misty panes and thick green light,
As under a green sea, I saw him drowning.
In all my dreams before my helpless sight,
He plunges at me, guttering, choking, drowning.
If in some smothering dreams, you too could pace
Behind the wagon that we flung him in,
And watch the white eyes writhing in his face,
His hanging face, like a devil's sick of sin;
If you could hear, at every jolt, the blood
Come gargling from the froth-corrupted lungs,
Obscene as cancer, bitter as the cud
Of vile, incurable sores on innocent tongues,—
My friend, you would not tell with such high zest
To children ardent for some desperate glory,
The old Lie: Dulce et decorum est
Pro patria mori.*
Wilfred Owen, Dulce et Decorum Est
* Dulce et decorum est pro patria mori = It is sweet and fitting to die for one's country. (Horace)
This week I am still reeling from the fact that last week Brisbane was host to the Land Forces Expo, a trade fair for weapons.
I am not against having a defence force, but as US President Eisenhower warned in his farewell speech at the end of his presidency in 1961, to have an armaments industry that is driven by the profit motive and the need to grow businesses destabilises the world rather than making it a safer place.
This week's poem was written by Wilfred Owen, one of the soldier poets, who responded to the carnage of World War I by writing poetry that stripped away the romanticism of war. Owen was himself treated for shell shock, which we now call PTSD, during the war. He was killed in action just one week before the war ended. The poem is stark in its imagery.
June is PTSD awareness month. Owen and his colleagues want us to remember that war is incredibly costly in human terms. We still have PTSD sufferers in our midst who served in World War II and Korea.
The Land Forces Expo received funding from the government, public money.
We say we value peace, but I have never heard of our governments funding a peace expo.
Blessed are the peacemakers….
Peace,
Peter+
Wednesday 2nd June, 2021
The Land Forces Expo I
This week Brisbane is hosting the Land Forces Expo.
Largely unadvertised to the public the Expo is a three-day market selling weapons and military support services.
Click for more
This week Brisbane is hosting the Land Forces Expo. Largely unadvertised to the public the Expo is a three-day market selling weapons and military support services.
It is happening despite there having been no public conversation about our involvement in the international arms trade.
At the end of his two-term presidency of the USA in 1961, Dwight D Eisenhower, a former General, tried to warn his nation about the potential effects of what he labelled the Military-Industrial Complex. The Military-Industrial Complex is made up of companies that specialise in making and selling weapons. Like all businesses they want to grow. To grow they need people to use their weapons. Eisenhower could see how this market driven approach to weaponry could lead to an increased likelihood of armed conflict.
Eisenhower noted that before the World War II most armaments had been produced on an as needs basis by companies that manufactured sewing machines and other products for civilian use. These would turn their hand to making weapons when a conflict broke out in much the same way that several engineering companies have responded to the Covid-19 pandemic by retooling to make ventilators. Eisenhower's words were not heeded and so the Industrial-Military Complex has grown. Large portions of the world have been destabilised.
Our Federal Government has the aim of making Australia one of the top ten producers of armaments in the world. The Land Forces Expo is part of promoting this expansion.
The Land Forces Expo is being held against the backdrop of our withdrawal from Afghanistan. The Afghan conflict is numbered by Australian academic, Henry Reynolds, amongst the list of Australia's 'unnecessary wars'. Reynolds contends that our leaders are far too willing to send our service personnel into conflicts. He says they use war, which has long term consequences, for short-term political gain.
The allegations that war crimes were committed by service personnel in Afghanistan remind us that war is a shadowy place. A place we should be reticent to send people. Too easily the rest of us allow our defence force personnel to go into places we would not go ourselves.
Siegfried Sassoon was a soldier and one of the World War I poets. The war poets were highly critical of the way leaders and people alike tend to treat war in a trivialised way:
You smug-faced crowds with kindling eye
Who cheer when soldier lads march by,
Sneak home and pray you'll never know
The hell where youth and laughter go[1].
To the politicians Sassoon said:
Go round the soldiers' cemeteries; and then
Talk of our noble sacrifice and losses
To the wooden crosses…[2]
Sassoon also wrote of the 'impotent old friends' sitting 'snug at the club' talking about how lucky their sons were to be at war.[3]
June is PTSD Awareness Month. We still have amongst us veterans for World War II and Vietnam who are living with PTSD, and increasing numbers produced through our involvement in Afghanistan. The human cost is high and long-felt.
And yet here we are aiming to become one of the top ten producers of armaments in the world and hosting a weapons Expo.
On the sermon on the Mount, Jesus said that the peacemakers are blessed, and the writer of Isaiah had a vision of swords being beaten into ploughshares. The presence of this Expo in our midst and our government's ambitions  for our armaments industry suggest that we are a long way from achieving that vision.
[1] Siegfried Sassoon, Suicide in The Trenches, http://www.greatwar.nl/children/suicide.html
[2] http://jamesmanlow.com/siegried-sassoon-first-world-war-poems/
[3] Siegfried Sassoon, The Fathers in Counter-Attack and Other Poems, 1918. https://www.bartleby.com/136/10.html
Peace,
Peter+
Monday 31st May, 2021
Trinity Sunday
Hi,
On a tranquil night, in deep silence
my boat softly glided onto the immense Ocean…
Click for more
Hi,
On a tranquil night, in deep silence
my boat softly glided onto the immense Ocean.
All was resting under the vault of the heavens
and seemed attentive to the great voice of God.
But suddenly great waves arose
and the fragile vessel disappeared beneath them.
It was the TRINITY which drew me to itself.
There I found my centre in the divine abyss.
I shall no longer be seen on the shore.
I dive into the Infinite, there is my portion.
My soul rests in this immensity
and lives with "the THREE" as if in eternity.
                                                   Elizabeth of Dijon
Sunday was Trinity Sunday, the day when we celebrate God, as three and one:
Father, Son and Holy Spirit or
Source of All Being, Eternal Word and Holy Spirt or
Creator, Redeemer and Sanctifier.
The idea of God being three and one has, down the years, led to some very complex theological writing. It takes a lot of head space to get around he idea that One can be three and three can be one.
Elizabeth of Dijon reminds us that the church came to the idea of God being a Trinity though experience, and she calls us back to that appreciation. As her poem suggests, if we give ourselves over to experience, particularly the experience of prayerful attending, then we are far more likely to 'get' God, despite God continuing to be a mystery.
Peace,
Peter+