Thank you for visiting St John's Cathedral's events page.  Here you will find information about concerts, seminars, workshops, special church services, short-term exhibitions and community events taking place at the Cathedral or in the Cathedral Precinct. On this page, items will generally be presented with imminent or current events at the top of the page, and longer-running or future events beneath. Please see the sidebox below left for more information.
MORE ABOUT EVENTS
Offsite events, particular theme days/weeks or festivals which might be of wider interest are more likely to be found in the GENERAL NEWS section on the home page of this website.  This is not a hard-and-fast rule: we will be keeping an eye on the dispersal of information across this new website, to try to minimise the number of clicks and cross-reference links needed.
Regarding links, some of the events featured here (and on the home page) may require registration, ticketing or booking fees. Where this is the case, either the event image or a specific text link should take you to the relevant (external) website for more details.
Please note that St John's Cathedral provides such information in good faith and cannot be responsible for the veracity or otherwise of such links. If you find a link is broken or are concerned about its redirection, please contact the Cathedral office during business hours, 9.00am to 5.00pm Monday to Friday, or by email 
MINISTRY OF LAYING-ON OF HANDS
Next: Sunday 5th January, 9.30am
Following the example of Jesus, and his explicit instructions to his disciples, the ministry of healing for any kind of disease or distress is an integral part of the proclamation and application of the Gospel of compassion.
It is administered by the "Laying on of Hands with prayer" by a priest gently touching the head or shoulders of the person in need. No questions are asked although a person may, if they wish, give their name or a brief description of their concern. It is perfectly acceptable, even encouraged, to receive this ministry on behalf of another who cannot be present.
Those who wish to receive this ministry are invited to make their way to the Lady Chapel (north side of the Cathedral) following the reception of Communion.
The Ministry of Laying on of Hands with Anointing is also available at other times, including after each act of worship. Please contact the Cathedral Office.
LABYRINTH WALK 
Next: Sunday 5th January, after 9.30am
Walking the Labyrinth occurs on the first Sunday of each month following the 9.30am Eucharist. If you have not walked the Labyrinth before, you would be most welcome to join the group who regularly do so. Please join us to walk the Labyrinth – we meet under the Rose Window.
The path is always new, because,
as a spiritual discipline, the labyrinth
is a path of contemplation,
reflection, prayer …
Beneath the surface, walking the labyrinth
is a profound discipline in listening,
in active silence, in finding movement
and rhythm in the stillneses underneath
and in between everyday's noise.
Walking the labyrinth is an exercise
in finding the voice speaking in whispers
underneath the whirlwind of sound.
~ Travis Scholl, "Walking the Labyrinth –
A Place to Pray and Seek God" p.17, IVP Books, 2014
EDUCATION FOR MINISTRY (EfM)
~ a 'taster' program!
EfM can be summed up as Exploring Faith Matters! It is formational and transformational for Christian life and ministry. We do EfM in small groups led by trained mentors. Through individual study, sharing discoveries and exploring our faith together, we learn to think theologically. We connect what we come to know of the Christian tradition with our ordinary daily activities.
The 2018 EfM group developed a 'taster' program for 2019, to introduce newcomers with sample sessions over several weeks. These sessions are held in St Martin's House at 6.00pm. To find out more, please call the Cathedral Office on 3835 2222 during business hours.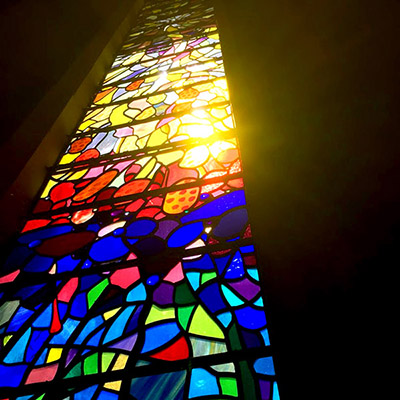 Advent Study: Celebrating Abundance
Groups will be meeting on Sunday afternoons, Tuesday Evenings (following the meditation group) and Wednesday mornings in Advent to explore the issues that arise from the daily reflections.
Click here for more details
Blue Christmass
Tuesday 17th December
6pm
A Christmass service focussed on those who find Christmass a tough time; those who are sad, lonely, isolated or sick. The Christmass story is not just about joy and family. It speaks to the whole of our lives. All welcome
Christmass Eve, Tuesday 24 December
11.30am & 3.30pm  Hurry to Bethlehem  Children's Liturgy
7.00pm      God is with us  Lessons & Carols
10.40pm    Pre-Service Carols  (Cathedral Choir)
11.00pm    First Eucharist of Christmass
Christmass Day, Wednesday 25 December
7.30am     Holy Eucharist (with hymns)
9.30am     Choral Eucharist                 (The Cathedral will be closed 11am – 4pm)
5.00pm     Holy Eucharist
JACKI'S MEMORABLE NOVEMBER CUSHIONS IN OUR CATHEDRAL
The cushions for November have been selected to inspire us to think about Remembrance Day and all it means. On 11th November 1918 at 11.00am the guns on the Western Front in Europe fell silent. Some 330,000 Australians fought during the four-year campaign and more than 60,000 died. Many families in Australia have loved ones who fought, died or survived the Great War. We also remember those who have fought and died in all wars, before and since, and those who stand ready to defend us now.
The Ode
They shall grow not old,
as we that are left grow old;
Age shall not weary them,
nor the years condemn.
At the going down of the sun
and in the morning
We will remember them.
Advent Quiet Morning
Saturday 14th December
9am to 12.30pm
The Reverend Dr Graham Warren, a member of the cathedral clergy and Cathedral climate advocate will lead us as we take some time to reflect on the Advent Journey. We gather in the Southern Chapels in the Cathedral.
COFFEE ON WEDNESDAYS
10.00am-2.00pm
Please feel 'mooved' to join us at our regular COWS (Coffee on Wednesdays) gatherings between 10.00am and 2.00pm ~ followed by free English conversation sessions between 2.00pm to 3.00pm. Good friends, good food and great conversation all round.
Wine before Breakfast
Friday January 3
7.30am
End the week well with an early Eucharist in the Holy Spirit Chapel followed by breakfast at a local cafe. The short Eucharistic service will include contemporary reflections on issues of justice and peace and prayers for our communities and our world that reflect recent events of the week.
We will then head to a nearby cafe for conversation with good friends, great coffee and cooked breakfast. All are welcome, with a cost of around $10 *(for the breakfast) for those who can afford it.
ENGLISH CONVERSATION CLASSES
Wednesdays, 2.00pm-3.00pm
Every week we host English conversation classes in the Darnell Room, in which our wonderful team of volunteers assist people who would like to practise their English speaking skills. We are also seeking more volunteers to help. You don't need any special qualifications at all, just a patient and friendly demeanour and the urge to help others. Please contact the Cathedral office on 3835 2222.
Latin Vespers for the Second Sunday in Advent
Sunday 8th December
7pm
A service of Latin Vespers for the Second Sunday of Advent, sung by the Johannine Voices. Psalms sung to Gregorian chant mingle with polyphony to create a special, meditative atmosphere to close the day.
(Please note that this service starts at 7pm, and there will be no 6pm Choral Evensong on this day)
A Festival of Nine Lessons and Carols
Sunday 15th December
7pm
A service of Lessons and Carols for the Christmas Season, with the Brisbane Choral Artists.
(Please note that this service starts at 7pm, and there will be no 6pm Choral Evensong on this day)
A Festival of Nine Lessons and Carols
Wednesday 18th December
7pm
A service of Lessons and Carols for the Christmas Season, with the Brisbane Chamber Choir.
Cantata Service for Advent
Sunday December 22
7pm
A service of expectation on the Fourth Sunday of Advent, as we prepare to celebrate the birth of the Christ Child. The service will include Bach's Cantata 'Wachet auf, ruft uns die Stimme' BWV 140, sung by the Cathedral Singers.
(Please note that this service starts at 7pm, and there will be no 6pm Choral Evensong on this day)
What is 'Spiritual Direction' …?
Spiritual direction is about making a space for God in your life. Contrary to the name, Spiritual Direction is not about being 'directed', it is being encouraged to draw closer to God in a more conscious experience of God's presence, grace and love in your daily life.
In the midst of life we often find it difficult to notice God's action within it. And yet we yearn to be able to discern the presence and the voice of God at a deeper level. In the practice of Spiritual Direction you are given the time and space to reflect on the experiences of your daily living, and as this contemplation takes place, you begin to discern God's invitations and the work God is doing in your life.
Spiritual Direction sessions are now available at the Cathedral. To find out more, please contact Glynis by email
TWO Christian Meditation Groups
Tuesday evening + Thursday morning
The Tuesday evening group meets at 6:45pm in the Lady Chapel, or in St Martin's House if there is another event being held in the Cathedral. All are welcome also to join us for a shared meal before meditation any time after 5:30pm in the St Martin's House kitchen. For entry at this time come to the rear corner door and press the buzzer marked "Passage". Newcomers are invited to come to the Lady Chapel at 6.30pm to be introduced to the space and to our method.
The Thursday morning group meets from 11.30am to 12.15pm in the Choir Room in St Martin's House. All are welcome to gather for conversation over morning tea before meditation at 11.00am and/or to attend the 12.30pm Eucharist afterwards. Come to main reception in St Martin's House.